Being able to have a backup of your website ticking over in the background can help you:
Recover from a disastrous upgrade
Fix something you broke
Help you sleep soundly each night
In this article I'll explain how to backup your wordpress site to dropbox using an amazing plugin.
Years ago I invested the time, and a little money, to learn how to keep my WordPress sites backed up every day. I looked at a range of tools and landed on what I think is the best option that will work reliably and will save to dropbox so I know it's working each and every day.
That solution was a plugin called Duplicator Pro. It's so much easier than the way I used to do this.
At the time I was looking for both a solution for moving my site from my local computer to my host AND a way to backup the website regularly.
Installation
Installation is easy, however it's important to recognise that Duplicator Pro has a few versions.
A free version you can download and install from right inside wordpress
Other paid versions that you can download from the Duplicator Pro website
The free version is good for moving your website from one host to another, but's that another story for another day. The paid version lets you do many many things, including scheduling a backup to dropbox.
It's important to note that there's a range of paid options for this software, the Personal edition will let you do just about everything you need for up to 3 websites.
Head over the the duplicator pro website and purchase the version you want or need. Then access your account and from the dashboard access the Downloads page.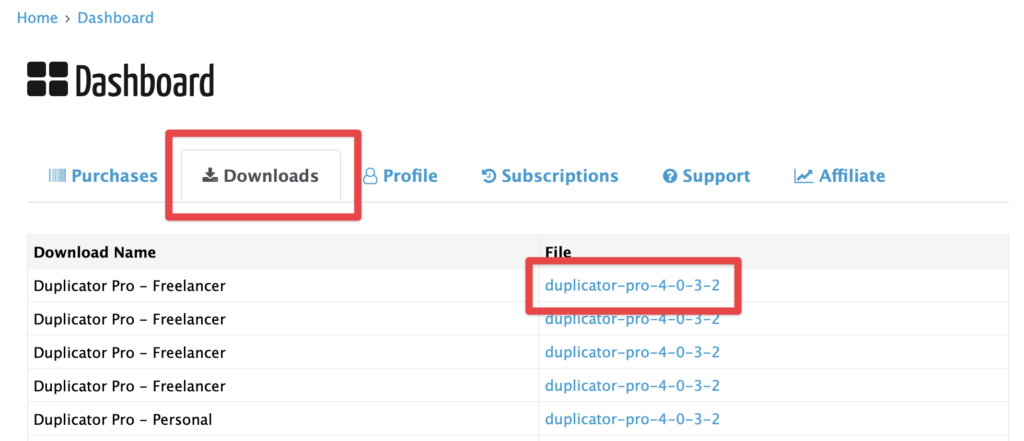 Once on the downloads page, you can select the product to download. In the above you can see Duplicator Pro – Freelancer as an option and you an just click the filename to start the download.
Once downloaded go to your plugins page in WordPress, select Add New and then Upload Plugin, as shown below: